Our Story
Before 2009, Founder (Gerald Zhao) ran a digital printing company and purchased several digital inkjet printers, he loves the printing industry, but hated the printers, both function and service, they were all basically unstable, untimely service and inconvenient to use, all of the printers he tried were the same thing but with a different name. It was around that time that he made a decision, "he can make this better; he can make a printer that stands apart"
He wanted a printer that was stable enough to print, yet served efficiently with low cost. A printer that could be easy to maintain for the customer. A printer that was simple, efficient and convenient. A printer that virtually anybody at any age could operate with ease. It needed the capabilities of a voice robot with the intelligence of a printer. And, it needed to look good…, really good.
So… in 2009, he left his successful career (a partner of a printing company) and started making his printers, or what he decided to call "WER". All he had for funding is a 300m2 shabby warehouse, no technology, no resources and a shit-ton of hard work ahead of him.
For beginning, he always asked himself one issue: WHO WE ARE? what on earth can we do for customers? Through the past digital printers, he got there are three things can be done
Create A Customer-Driven Organization
Dedicated to Customer's Success
Make A Difference in this industry
First one: Create A Customer-Driven Organization
In 2009, WER Digital Technology Corporation was established in Shanghai, China, to provide complete sales, marketing and customer support services throughout the Asia for the beginning. WER today markets its products through an extensive internet network or dealer network serving the China, United States, UK, German, Japan and 100+ countries world over.
As a company, the first priority is to meet its customers' requirements for training and support as well as for innovative, high-quality products that perform reliably, by gathering talents and investing in R&D to promote consistent quality in manufacturing, intelligent operation and customer service.
Second one: Dedicated to Customer's Success
WER has got 10+ years of helping people start and expand businesses with a different kind of digital printing equipment, software and supplies. That's 10+ years of experience, 10+ years of time devoted to improve production, providing them with durable products with low operation costs (30-40% less than other brands); 10+ years of time having them grow with WER – adding more ways to make money and expand their businesses over time.
WER success is based on helping customers be successful so every time they grow, WER grows.
Third One: Make A Difference in this industry
5G is coming, WER has been developing the data system of intelligent learning, intelligent operation, intelligent management, want to complete everything without leaving home, will be first by WER?
For example1: With factory direct sourcing and efficient business practices… WER could pass the savings on to the customers (The factory direct concept of eliminating middlemen such as export/import agents, freight forwarders, warehouse distributors, and wholesalers in the supply chain was working).
For example2: WER products are developed through feedback from the digital printing community directly to the manufacturing floor — "Designed by users for users". It's an inverse of the manufacturer to customer formula (M2C). Input from users and the WER digital printer development team delivers the digital printer features that users want and need.
For WER, it was always about low cost, not low quality, for the best product value. Why? Making a difference!
Today WER stays true to its roots by producing high-quality, innovative digital printers with the needs of customers in mind, offering them around the world at prices that are affordable. WER slogan: Print Wonderful Future.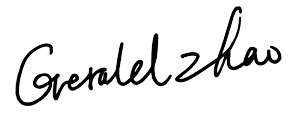 Gerald Zhao
CEO & Founder