Today I want to talk about one of my customer whose name is Manfred Arias, from Chile. He found our printer on Alibaba, and when I sent our 1.6m Eco solvent print ES160's video to him, he said that he has seen that machine before, his friend Henry from Iquique buy it from our company, did you know Henri? It is surprised for me that he knows our printer: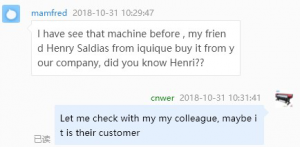 And then, of course, it was very smoothly for us to talk more about our eco-solvent printer. Even he wanted UV roll to roll printer, I suggested our eco-solvent printer changing to UV printer to meet his needs. And we talked much, and finally, he said that he will ask his friend Henri for more suggestions as Henri had bought 2 printers from our company.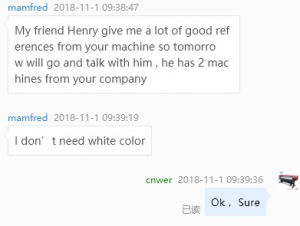 We are still keeping in touch now via email, even he doesn't give me order now, but I am sure that we will cooperate very soon as he totally trust us and our product.