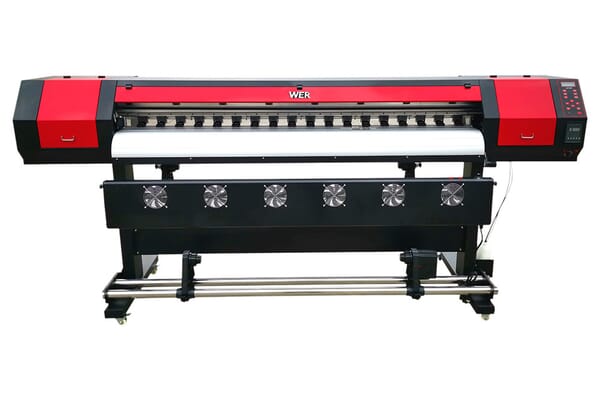 PRODUCTS:WER-ES3202I eco solvent printer,posters printing machine, banner printer
Owner: Daniel Urina
Country: Ecuador
Year Established: 2018
I waited a good many years to achieve a nice eco printer. WER won't let me down. The printer was received on time and come with user manuals, cables, and other quick-wear spare parts. This banner printer works better than I had expected. And WER's After-sales service is so excellent.
eco solvent printer diversity
"Really satisfied with the printer"Daniel Urina said, WER set up in 2009 with manufacturer of digital printer in China. "The print quality is great. The ES3202I lets me do everything I want to do," he noted.
"I'm a small printing business company, but I have an advanced equipment capable of printing on all kinds of materials.Which shows a world of opportunities."
WER-ES3202I specializes in digital printing designs on materials like Flex Banner,mesh, PVC vinyl, photo paper, PP paper, backlit film, wall-paper,window film etc. Usually clients include restaurants, artists, and interior designers – all of them seeking new ways to tell a story with their signage.
The WER-ES3202I is a large format eco solvent printer. It does what I intended it to do. The color in the photo is very bright. Pictures are pretty clear. Print excellent photos and good for doing advertising printing at the factory. Easy to save the cost of ink. That's why I have been still purchasing ink from WER.
Highly recommend the printer and WER!
Excellent Solutions
One recent job Daniel Urina took on is to put his creative skills to the test. A restaurant owner asked him to design a new style wallpaper for a new location. Instead of the usual vinyl or canvas, he proposed a composite of photos printed.He contacted a photographer friend who designed the picture. Then, Daniel used his WER-ES3202I to print the images directly on photo paper.
"I'd like to treat our output as high-end arts – not just printed photos," said Daniel. "Not only are the margins higher, but also having respect for the arts, which makes for a better overall effect.
"I'm a small printing business company, but I have an advanced equipment capable of printing on all kinds of materials.Which shows a world of opportunities."