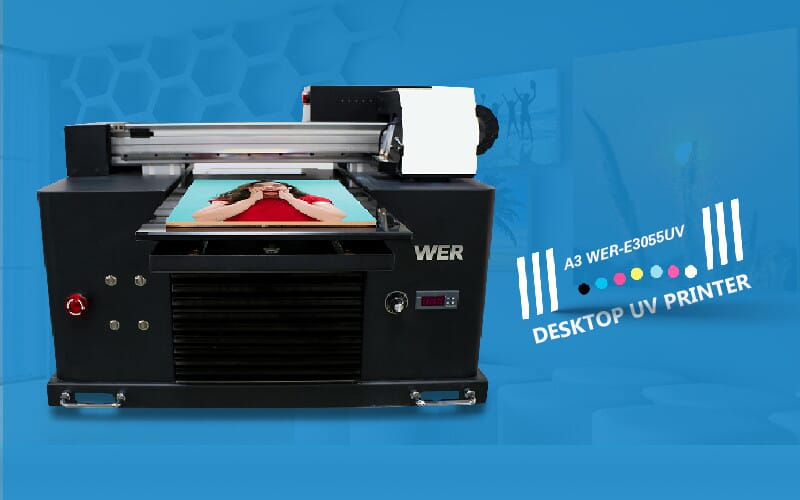 A3 WER-E3055UV Desktop UV Printer
Higher quality, true color and Lower cost
A busy, more efficient print shop needs never-say-die, and a printer that can deliver quality output at higher speed. Meet the new WER-E3055UV phone case printer. With original EPSON printhead and a rigid new industrial design, productivity and quality are built inside.
So are big-time savings.
The E3055UV runs with new UV Curing INK, available in 4 or 8 colors, and cartridges that cost up to 35% lower than the competition. The result? High-volume, low-maintenance printing and bold, exciting colors with higher profit margins.
The awesome effects of ECO UV Ink
The outstanding effects of Eco-friendly UV Ink
Watch the Color with varnish ECO-UV Ink
Observing beautiful surface treatment, stereo textures, or 3D embossment effects to create an extraordinary new dimension of "watch the color". Start your own printing business,and we can teach you how to make texture-designed patterns in our WER COLOR System.
Amazing Ink Color output
Print pictures with stable color and astonishing detail on a good range of promotional gifts.
(1)Produce amazing pictures with CMYK, White ECO-UV inks
(2)White ink is a brilliant genius color, or to ensure that colors occur on dark or clear objects
(3)Optional pretreatment liquid increases efficiency by preparing the surface of materials like glass and metals for full-color customization
(4)A Continuous Ink Supply System(CISS)keeps ink pigments settling in the ink lines for smooth consistency and density
(5)Automatic nozzle cleaning function ensures extended service life
* For perfect effects, it is strongly advised that users test for adhesion to specific objects before massive final production.
An easy,comfortable,and fabulous Machine Experience
With low-heat UV LED lamps, and self-cleaning ink function, the newly-designed A3 WER-E3055UV Desktop UV Printer is easy to operate and performs clean and cool with a safe operation. In addition to reducing additional machine movements of previous models to give you a more efficient operation, it offers new design advantages to simplify your print process.
HEAD CLEANING UNIT
Removes any ink remaining on the printheads and cleans the printhead surface to maintain the health and ink cost-efficiency of your printer.
NOZZLE SHIELD FUNCTION
If a nozzle on the printhead is clogged and misfiring, you can reduce losses with the ability to turn off a specific nozzle band to allow continued production.
Buyer's Country
Name
Telephone
Product Type
Transaction Date
A3 Size Desktop UV Printer
Model
WER-E3055UV
Print Technology
Drop-On-Demand piezoelectric technology
Head Type
Epson tx800 (DX7 and DX5 is optional)
Head Quantity
One tx800 print head
Nozzles
180 nozzles*6 lines per head
Print size
30cm*55cm (11.8"*21.7")
Height of Print Head
1.2mm / 2.8mm above media, adjustable
Ink Supply Method
Independent continuous ink supply system
Ink Cartridge
Ink Type
Rigid LED UV ink/ Flexible LED UV ink
Volume
220cc / 440cc ±5cc
Color
2*CMYK or CMYK + W
Media platform
Glass or vacuum suction
Media Sensor
Two sides, front edge & rear edge
Print Speed
Production mode
5.5 m²/H (720*1440dpi, 8pass)
Standard mode
3.9 m²/H (720*2160dpi, 12pass)
Ultra quality mode
Being Developed
Acceptable Media Width
320mm~600mm
Print Interface
USB2.0 or HI USB
RIP Software
Maintop for Window xp or Window 7. 8.10
Movement mode
Front and rear for platform, up and down for height
Usable Media
Glass, metal, pvc, acrylic, wood, ceramic, gifts, crafts packaging, leather, plastic, 3c panels and signs etc.
Lamp type
LED lamp (saving energy and environmental friendly)
Power supply
50Hz/60Hz, 220V(±10%)>1.7A
Operation Environment
Temperature: 20℃~32℃; Humidity: 35%~80%
Package Dimension
850mm*700mm*980mm
Gross Weight
130kgs
Original Epson print headfor A3 desktopuv printer, CMYK + W or CMYK LC LM
Adopt the ball screw for A3desktopuv printer platform movement, max 18cm for print height
3. Providing of led uvflexibleink or led uv rigid ink, you can print any designs on any materials
4. Adopt the advanced variable ink drop technology, min size 3.5pl and max size 27pl, speed 30% faster
Easy Operation with WER-E3055UV Printer
More than an image output, and it's your time to stand on your stage. The WER-E3055UV printer is designed to ensure quality results even at higher speeds:
Easily operated with LCD operation panel.
Adopt Hiwin linear rail guider system for A3 UV flatbed printer with dual print heads.
Rigid industrial design ensures quality output with physical resolution 1440*2880dpi.
Providing of LED UV rigid ink, and you can print anything on different materials, superior quality.
Adopt the advanced variable ink drop technology, min size 3.5pl and max size 27pl, speed 30% faster.
High Performance-Price Ratio
Perfect printing size design
A2 420*900mm, A3 329*600mm, A1 600*1500mm.
Many customers think that A3 is too small for their business, while A1 is beyond their budget.After that our company recommend this new E3055UV to meet the demand of the majority, and decrease their burden at the same time.
Reasonable price
With its excellent and stable working performance,and this new design become the mainstream of market.Compared with A3, you only pay little hundred USD more to get all that functions included.When it comes to A1, E3055UV is several thousand USD cheaper.
Stable performance
From years of sales experience, this printer has very stable print performance, get good feedback from customers all over the world.
Rich, Vibrant, Durable Color effect
New, specially formulated, quick-drying UV CURING INK produces amazingly brilliant colors. The inks also provide excellent long-term outdoor durability, scratch and chemical resistance, broad media support and a wide spectrum of color. Not enough? Configurable to dual-CMYK or CMYKWWWW for finer details, smoother gradations and more neutral grays (made possible with Black ink).
Power Up More of Your Time
WER-E3055UV phone case printer doesn't need constant attention, and you can concentrate on other important tasks. Here are just a few features that get you through longest print runs:
Automatic detection for printer errors
Adjustable media height for accurate centering
Support of heavy flatbed media
Rigid industrial design eliminates vibration for quality printing even at high speed
Media thicknesses less than 15mm
Instant Drying system
The WER-E3055UV dries prints quickly – even in high-speed mode – for immediate finishing, installation or collection by the take-up system,which we name it UV LED drying system.
The integrated drying system features:
UV LED Light Length of wave is 395nm,which is energy saving and eco-friendly
UV cooling system: We use water to cool the UV LED Light, and it can save your money for cooling liquid.
Print heater to accelerate ink fastness and brightness
Dryer to accelerate drying and ensure greater productivity and scratch resistance
Watch Those Printheads Last Longer
The WER-E3055UV original-part patent-printhead cleaning system is designed to significantly reduce buildup around the edges of the print head, decreasing wear and tear and prolonging its lifespan
| | | | | | | |
| --- | --- | --- | --- | --- | --- | --- |
| No. | Item | Unit | Discription | Warranty | Function | Price |
| 1 | Printhead | PCs | EPSON TX800 | No | Physical resolution control | |
| 2 | ink damper | pcs | | No | Ink filter | $3.29 |
| 3 | Ink tube | m | | No | Ink transfer | |
| 4 | Decoder Chip | pcs | | No | Ink color control chip | $3.99 |
| 5 | Wiper | pcs | | No | Scrape the waste ink | $3.29 |
| 6 | Ink cap top | pcs | | No | Printhead moisturizing | $12.99 |
| 7 | Syringe | pcs | | No | Absorb ink | |
| 8 | Power cable | pcs | | Yes | Power supply | |
| 9 | Printhead data cable | pcs | | No | Printhead data transfer | $2.49 |
| 10 | Short motor belt | pcs | | No | Physical resolution control | |
| 11 | Raster strip | PCs | | No | Printing calibration calculation | $9.99 |
| 12 | Drag chain | PCs | | Yes | Printheadhead position transfer | |
| 13 | USB cable | m | | Yes | Computer connection with printer | |
| 14 | White ink cycle pump | PCs | | No | Front & back position control | |
| 15 | Front & back sensor | PCs | | No | Physical resolution control | |
| 16 | Printhead | PCs | | No | Store ink | |
| 17 | mainboard | PCs | | Yes | Printer data control | $349.99 |
| 18 | I/O board | PCs | | Yes | Input & output board | $159.99 |
| 19 | Y motor | PCs | | Yes | Y drive control | |
| 20 | Z motor | PCs | | Yes | Z drive control | |
| 21 | X motor | PCs | | Yes | X drive control | |
| 22 | LED UV Lamp | PCs | | No | UV Drying system | |
| 23 | Water cooling box | PCs | | No | Water cooling system | |
Price description
For the above items, there are some consumable parts (like printheads) and some Non vulnerable parts, so WER company just offered some of the prices as reference. If you need the exact price, please feel free to contact our sales staff.
| | | | |
| --- | --- | --- | --- |
| No. | Discription | Quantity | |
| 1 | 3*2mm Black ink tube | 2 m | Free |
| 2 | Black ink damper | 2 pcs | Free |
| 3 | Funnel | 5 pcs | Free |
| 4 | Ink cartridge chip | 1 pc | Free |
| 5 | Syringe 10ML | 6 pcs | Free |
| 6 | Syringe 50ML | 3pcs | Free |
| 7 | Decoder | 1 pc | Free |
| 8 | Software and Dongle | 1 set | Free |
| 9 | Cotton swab stick | 6 pcs | Free |
| 10 | Power cable | 1 pc | Free |
Attention 
If you have bought our WER printers, avoiding the printhead or the mainboard damage because of some wrong operation. You should install the printhead correctly in operation and maintenance according to the following way. And refer to the instructions, or under the guidance of the professional engineers operation.
Problem Symptoms
Resolutions
Static electricity is too high, which will burn out the printer head.
A:The Operator need to mak electrostatic? eliminating treatment and wear the Anti-static devices if possible to prevent the high static load form burning the circuit board inside of the printer head.
B: Do not to touch the surface of print head directly.
Printer head will be burned out if the USB line linked the printer head incorrectly
If you cannot install USB line of the printer head,Please contact professional technician
You should check if the outside voltage is stable and the input voltage is matched with the machine
check if the outside voltage is stable and the input voltage is matched with the machine.
Take the printer head and clean it carefully.
Clean printhead carefully.
There is no response after starting up.
Check power plug fuse
RIP Software
Our RIP software can be used for EPSON and many other kinds of brand printer for white ink printing
RIP software latest Version Maintop 6.0
1.CMYK+WWWW printing 2. color enhance printing 3. better printing quality 4. easy operating and fast delivery
Guides videos
About guide video: If you meet any question on installing or printing after you bought this machine, please contact our sales to send you the guide video.
User manual
WER-E3055UV User Manual-English.docx
Download
Driver download
wer-e3055uv-t.zip
Download
Warranty Information
ALL WER printers come with a standard one-year warranty, with the option for a 2 or 3-year warranty extension contingent on registering your device within 60 days of purchase. By then WER or WER's agent will send a document to you, everything will take effect after signature, thank you!
Learn More About Your Warranty
Service Contact
We offer excellent Service Contact for all of our inkjet devices.
Learn More
Blog
Follow our blog and discover the latest tips and tricks, and WER news.
Visit Our Blog
Leave a Comment & Inquiry
Overview
Specifications
Features
Accessories
Support
Review