When talk to solvent and Eco solvent printing , solvent ink and Eco solvent ink are frequently used terms. Eco-solvent is a printing tool with ecological protection function, mostly used in indoor applications. Generally, solvent-based inks are unbearable and are related to odors. Unpleasant odors make them unsuitable for indoor use and can only be used outdoors.
Eco solvent ink can be biodegradable. As a biodegradable ink, it can be separated and absorbed in the human body when volatilized without any inconvenience. Therefore, Eco solvent does not cause harm to the human body. Smell is just one of the advantages of environmentally friendly materials. Compared with Eco solvent printing, solvent printing tends to be used for printing on various materials. Printing on this medias is cheaper.
Eco solvent printer is a high-resolution printing, and its printing cost is higher. The required artwork and picture structure should be high resolution and not pixelated. We can get a high-quality printing results from Eco solvent printer, and solvent printer can't do it. We recommend you use Eco solvent printer if you require high print quality.
We mainly use Eco solvent printer indoor , but it can also be used well in outdoor environments. The solvent ink can be used continuously under normal external weather conditions without any serious problems. We use them for accumulation, markings, store boards, coverings, standers, etc. Then, all store interior marking, POP display and inventory marking are again done with Eco solvent ink.
What is the Benefits of Eco Solvent Printing Inks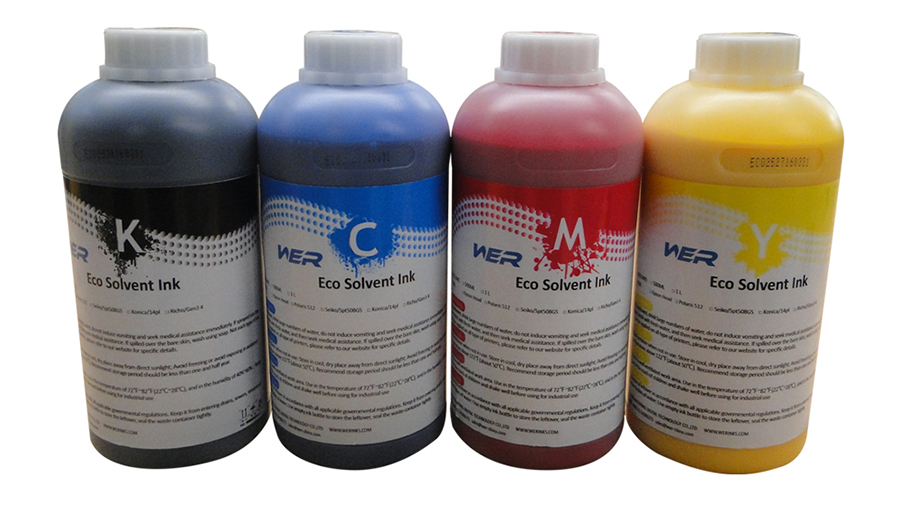 The new Eco solvent inks for printing have emerged as the latest choice for printers. This new Eco-Solvent inks offer you with the some unusual benefits as compared to Solvent inks because they are available with added enhancements. These enhancements available with the eco solvent printing inks include a faster drying time along with a wider color gamut. The ink also has an improved ink fixation with better scratch resistance and chemical resistance, so that you are able to attain better quality print. These inks have a higher print speed and a much sophisticated media compatibility, which enables the smoother functioning of the printer along with providing you with better quality work.
The Eco solvent inks also help you to reduce cost for print figures and thus reduce the overall budget for such products. This happens because the Eco solvent ink cassette provides you with a better percentile of quality than the regular inks available in the market. The Eco solvent inks also help you to print onto a selection of lower cost PVC with standard paper backing. As compared to the regular PVC these inks come with PE-coated backing and they also have the features of paper backed PVC.
Some of the primary benefits of these inks include lesser wear and tear on print heads that also helps to extend the printer lifespan. These Eco solvent inks are also environmentally friendly, which enables their use in printing high resolution and outdoor signage seen it can work well with both coated and uncoated surfaces. With the durability of the ink, and the vibrancy of the colors, the overall costs of printing would be also reduced.
These Eco-solvent inks will have no harmful fumes and they are ideal for billboards and other indoor signage. They are available in different series and are suitable for your business printing needs. These inks protect the environment with Eco-solvent qualities and hence they an environmentally friendly printing option, which are a more economic choice. There are also no requirements for a ventilation system as these inks don't exhibit any fumes. These Eco friendly and Eco solvent inks have emerged as the choice for the new generation, where conserving the environment is given priority and also ensures lower costs. These inks are more feasible practically and economically, as compared to their regular counterparts, which are more expensive and harmful to the environment.
How to Choosing between solvent and Eco solvent print
While there are clearly a number of benefits to Eco-solvent printing, it may be that for the type of printing you wish to do, choosing Eco-solvent ink may not be right for you.
As we have already touched upon, Eco-solvent ink is not ideal for all types of material due to the heat required to dry it. If you need to use thin, cheap vinyl then solvent ink would be better. If cost is a factor, you should be aware that Eco-solvent inks are more expensive than solvent inks, due to the number of benefits that you get with Eco-solvent printing. However, they are widely used by businesses and individuals who are just starting out, or who have a medium-sized printing need. Industrial printing is still typically done with solvent inks.
Finally, you'll need to check what type of ink is compatible with your large format printer. If you know from the outset that you wish to use Eco-solvent inks, you need to ensure that they are compatible with your printer.